LEARN SPANISH, PRONTO!
LEARN 500 of the MOST COMMON SPANISH WORDS
SHORT, SIMPLE LESSONS: 10 words per day, with brief notes on usage, example phrases, and mp3 audio for proper pronunciation
NO lengthy grammar explanations (a few short ones), NO canned dialogues, NO time-consuming exercises
A FEW MINUTES IN THE MORNING and A FEW MINUTES IN THE AFTERNOON —breakfast and dinner, morning coffee break and afternoon coffee break, or morning bus and evening bus—are enough to read and study each day's lesson. (When learning a language, frequent study most days is best!)
In this course, you will benefit from the author's deep knowledge of Spanish gained during two decades as a certified translator (written) and interpreter (spoken).
This excerpt from lesson 29 will give you some idea of the style, format, and content (click, or zoom in, to enlarge):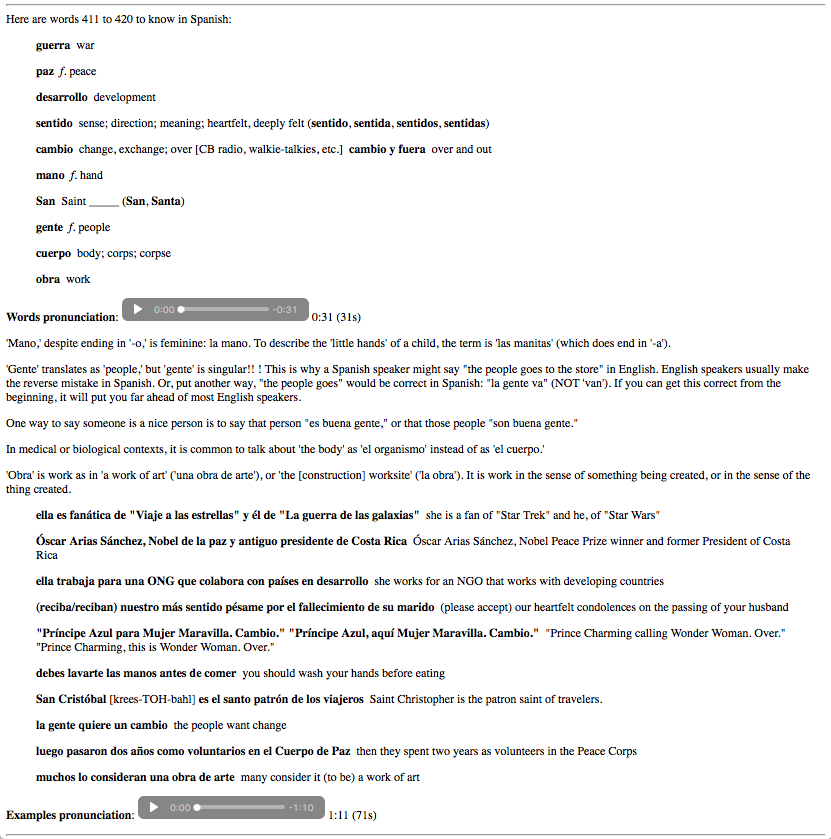 THE SPANISH PRONTO FIRST 500 WORDS COURSE IS AVAILABLE NOW. There are 37 lessons. Thirty-six of the lessons cover 375 Spanish words, and one lesson (lesson 5) presents 125 true cognates—Spanish words that look like English words and, more importantly, also really do mean the same thing (mostly) in both languages. (The opposite of true cognates, "false cognates," are words that look the same in both languages, but really have different meanings.) Many additional useful words can also be learned from the example phrases. The first lesson includes suggestions for effective studying.
GET A START ON SPANISH NOW and ORDER THE FIRST 500 WORDS COURSE for just $25 per year or $6 per month—10 DAY FREE TRIAL! (Must be 18 to order.) At 50 words per week, learning 10 words per day 5 days per week, this course should take 10 weeks to complete. Because these words are chosen from the absolutely most common Spanish words, you will be getting the greatest possible benefit for your time.
Subscriptions will renew automatically, so please cancel whenever you are done with the course or no longer wish to be billed.
Thank you.
Chris Marquardt
Spanish Pronto
NOTE FOR NERDS: These "500 words" are more accurately 755 words (when counting otro, otra, otros, and otras as 4 words, rather than as just 1 word). The sample phrases provide the opportunity to learn an additional 498 less common words. That's 1,253 Spanish words in all.
*COMING SOON: LEARN THE 2,500 MOST COMMON SPANISH WORDS IN 1 YEAR!
(Just 10 words per day, 5 days per week, for 50 weeks.)